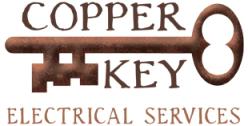 Providing residential and commercial electrical services
​​​

Residential- From Staunton to Winchester and beyond, our qualified electricians will come to your home and offer quality service for any home electrical repairs or upgrades. Bath and kitchen lighting, recessed lighting, ceiling fan installation, landscape lighting projects, specialty lighting, home upgrades, and more!

Commercial- Our licensed staff will assist you in small to large commercial projects. Offering installation of engineered systems, in addition to our in home design/build services. Increase your company's power efficiency and decrease the amount of equipment used with the installation of a 3-phase system.
New Construction and Remodels- Building a new business or addition? Copper Key Electrical Services is there to wire your entire project. We will ensure your new building endeavor is seamless from start to finish.

Service Calls- Copper Key Electrical staff will respond to all your service needs in an expeditious manner, making sure that your family or business is not left in the dark! Our professional technicians will provide the highest quality work to ensure your electrical problems are resolved.

Service Upgrades- Not enough power? No problem! Copper Key Electrical Services will assist in all aspects of electrical service upgrades. We can upgrade your existing 60 amp service to a new 200 or 400 amp service or upgrade your single phase system to a 3-phase system depending on your specific needs.

Structured Wiring Installation- Update your home's technology with Structured Wiring Installation. This service will simplify your technology by allowing the convenience of multiple data and phone locations and whole house audio / video installations.



Generator Installation- Prepare yourself in the event of a power outage. Standby generators will provide comfort to your home and business in the event of an outage. Make your generator even more efficient with the installation of an automatic or manual transfer switch.

Home Entertainment Installation- Upgrade your home's entertainment experience with the installation of a home theater or audio system.